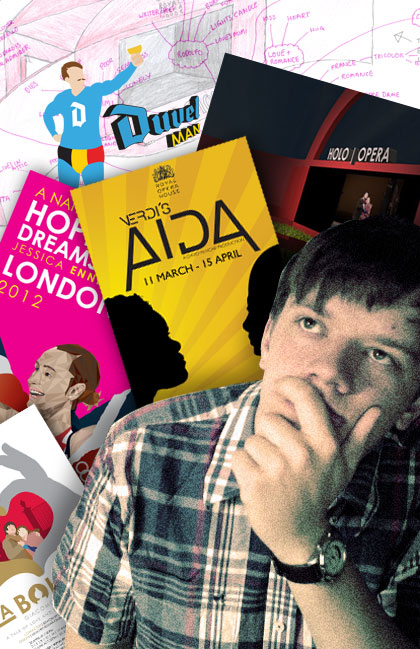 NAME:
AGE:
NATIONALITY:
DESTINATION:
QUALIFICATION:
ACHIEVEMENTS:
WORK EXPERIENCE:
WHO AM I?
Philip Grundon
31
English
Scarborough, North Yorkshire, England
1st Class - BA (Hons) Applied Digital Media
The University of Hull
1st June 2012 - Football and its Communities - Conference - Manchester Metropolitan University - Enhancing the Match Day Experience Through Technology - co wrote with Dr. Darren Mundy of the University of Hull

2010 - Winner of the Poster Competition at the Royal Opera House Aida Design Challenge

2010 - Exhibited at Sotheby's, London and The Saatchi Gallery, London as a shortlisted entry to the Picturing Time Competition
2010 - Fitzpatrick Design, Woodend Creative Workspace, Scarborough

2010 - Royal Opera House, Covent Garden, London
Apart from an obvious love of design and media, I have quiet an eclectic selection of other hobbies from listening to music to playing video games.

However, my greatest past time is sport, both as a spectator and a player. I love a number of different sports including Football, Golf, Cricket, Cycling, Athletics and Tennis.

My dissertation took this passion for sport and entertainment and looked at ways in which Football clubs could use digital media and technology to create a more immersive match-day experience for their local and global fan base. The varying solutions made use of multi-touch technology, holography, Augmented Reality and Virtual Interaction.
To request a full copy of my CV and a digital version of my portfolio, please contact me via my contact page or email me directly at
phil@grundongraphics.co.uk
Thanks,
Phil